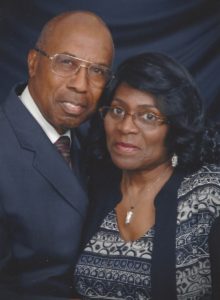 Pastor and Mrs. Lucious and Deborah Fullwood
Pastor and Mrs. Fullwood celebrated 50 years of Marriage June 21, 2020 and they have four children, one son and three daughters. Each one of their children has accepted Jesus Christ as their Savior and Lord.
Pastor Fullwood is a native of Arkansas. He was called to the ministry as a young man and has been engaged in the preaching ministry for fifty years. He received his undergraduate training at the University of Arkansas at Pine Bluff, receiving a B.A. Degree in the Social Sciences.
Pastor Fullwood earned a Master of Divinity and Doctor of Ministry Degree from Northern Baptist Theological Seminary in Lombard, Illinois.
He has been in the pastoral ministry for 50 years. He is gifted in caring for the spiritual needs of his congregation. He has led workshops, seminars and training sessions designed to help members to grow in their relationship to Jesus Christ. His Doctoral Thesis, "Equipping Lay People for Ministry," was designed to help members discover and use their spiritual gifts in ministry.
Pastor Fullwood has the vision to reach people for Jesus Christ. Under his leadership, Bellevue Baptist Church has constructed a Christian Ministry Center with the mission to reach the community with the saving message of Jesus Christ. Ministry programs to reach people for Christ are already flourishing in the Ministry Center. Loving God and Loving His people is the inspiration for Pastor Fullwood's Ministry.
Christian education
Ministries related to teaching the gospel of Jesus Christ. focus on adult and youth classroom instruction, recreation, sports, drama and scholarship.
Deacon Joseph Rowan
Finance committee
Responsible for recording all church income and disbursing funds to church ministries.
Deacon Mearon Durr
Watchcare committee
Social needs functions, deacon fund disbursements to needy members and nonmembers, visitation and counseling.
Deacon Stanford Owens
Missions committee
Responsible for educating our members on the support we give to missionaries and evangelism outreach. We host visiting missionaries and direct funds to local, national, foreign missions.
Deacon Melvin Mullins
Worship committee
The committee assist pastor in planning worship services, church choirs, musicals and other church events.
Deacon Garlan Garner
The Vision of the Church
The vision to build a Ministry Center for the purpose of reaching the community for Christ was completed and dedicated in 2009.
Since the dedication of the Ministry Center, many new programs of ministry have been implemented. We take this opportunity to invite the community to come by and view some of our ministries. We hold Computer Camps each summer from the last week of June to the last week of July and the young people always have a great time and souls have been won to Christ.
Our main goal is to share the Gospel and win people to Christ. To help us accomplish this goal we have our Evangelism team in place and they are actively sharing their faith. We understand that reaching people for Christ is a ministry for the whole Church so we encourage all of our members to get involved in sharing their faith.
We believe that meeting the spiritual needs of our community is only a part of the mission of the Church. We believe the Lord has called us to minister to the social needs of people as well. Therefore, you will find us doing things like feeding the hungry, sponsoring clothing drives, promoting health fairs, planning rallies for back-to-school supplies, etc.
We want people to feel the love of Jesus Christ when they come to us. We also want them to receive the saving message of Jesus Christ.
Come by and check us out. We have a loving Pastor of 38 years, a membership of about 450 people and many teams of people who are committed to serving this community for Jesus Christ.
We have one worship service on Sundays, 10:15 a.m., Sunday School classes for all ages at 9:00 a.m.
Pastor preaches strictly from the Word of God and the praise ministry from our choirs exalts the Lord. If you are looking for an authentic worship experience, we invite you to come to Bellevue.
We are located on 10700 South Emerald Avenue and our telephone number is 773-568-3200. Our Ministry Center is adjacent to our Church, 10715 South Halsted. Come and worship with us!