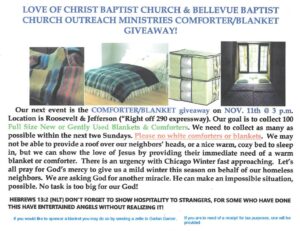 Sunday School Hour 9:00 a.m.
Thursday All Church Prayer Meeting and Bible Study 6:30-8:30 p.m.
Friday Ladies Prayer and Bible Study 6:45-8:00 p.m. (Daylight Savings Time) Saturday Men's
Monday – Friday Walking Ministry 7:30 a.m. -9:00 a.m. (Ministry Center)
Bellevue Baptist Church Sanctuary
We are in the process of collecting data for our Church History. As you know we have a rich history as a Church. We had our beginning from two Swedish Baptist Churches (Roseland Temple and Grace Baptist Church) that merged in March 1960 to form Bellevue Baptist Church.
Bellevue experienced a change in the late sixties and early seventies as the neighborhood started to change with Afro-Americans moving into the community and becoming members of Bellevue. The history of our Church continues to grow, and we want to preserve its history for future generations.
So, we are requesting you to help us with this project. For those who want to be a part of this process, you can email the church. This will allow us to safely collect information. We will be more than happy to communicate with you with further details on how you can contribute.
Pastor Fullwood
****************************************************************************
**********************